Michael Kors acquisition of Jimmy Choo driven by Asia growth?
Michael Kors (KORS) has won the bidding war for Jimmy Choo for $1.2bn, beating out Coach (COH) and a number of private investment firms. At a 37% premium to Jimmy Choo's market cap before it put itself up for sale, the valuation is steep, especially considering the 17.5x adjusted EBITDA for the trailing 12 months ending Dec 31, 2016. Throw in some rapid retail expansion by the new owners and perhaps that valuation isn't so rich. Asia was a bright spot for Jimmy Choo in 2016, staying strong while the rest of the luxury market slowed down before a 2H16 recovery. With only 21 stores in Mainland China and 6 in Hong Kong, one could argue Jimmy Choo has plenty of expansion opportunities in China. So how is Jimmy Choo faring in China in 2017?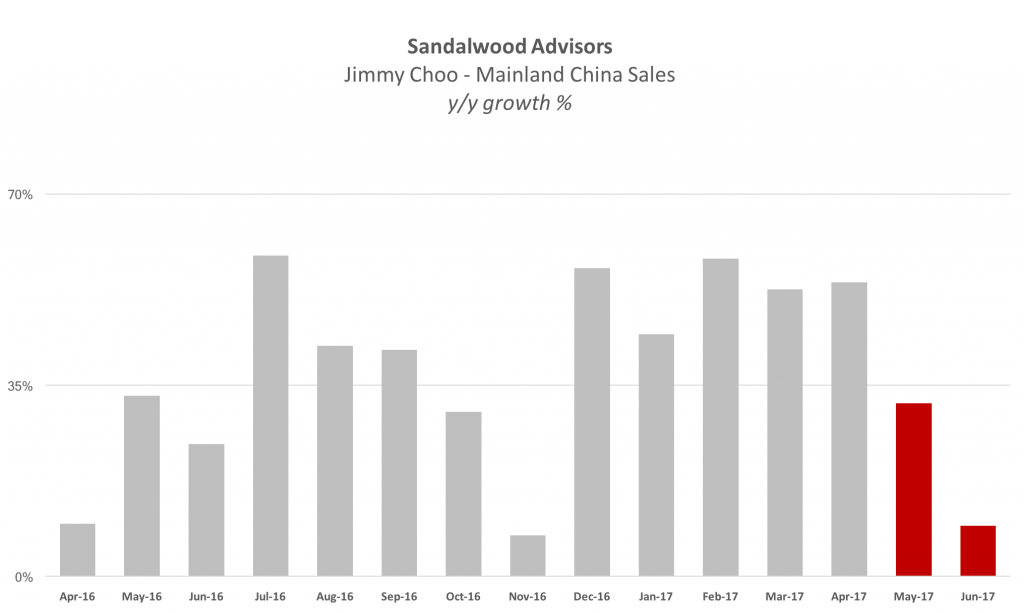 Quite well it turns out, with average growth rates for the last 6 months exceeding 40%. However, it's clear there's been a deceleration in growth, with May and June showing signs of slowing down. Since Micheel Kors has declared its intent to "
", we expect Jimmy Choo's retail presence in China to increase meaningfully. For near real-time data on how Michael Kors' new prize is doing post-acquisition, please contact us
. Sandalwood Advisors is Asia's first alternative data platform. You can also follow us on Twitter
or on
.